Optimized for Search
16 Oct 2010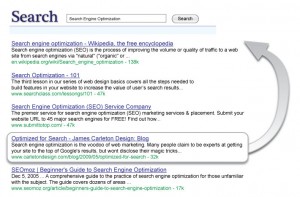 Search engine optimization is the voodoo of web marketing. Many people claim to be experts at getting your site to the top of Google's results, but wont disclose their magic tricks. When search engines and the internet were new, promoting your site was simple. Things have changed but the basic principles can still be conquered. Dump the voodoo and get going on the basics:
Skip the tricks, build it right You can't trick Google into to higher search placement. Don't try it. Shortcuts don't work. I'll admit that in 1999 I built a site with SEO tricks, it seemed smart at the time, but I've learned better. Instead of tricks, rely on website code that is clean, lean, organized, and valid (meets web standards).
Keep it real A site's content is it's best SEO tool. In the planning stage, decide what keywords your site should have based on how users search. Next, write good text content that contains those words. Talk about those keywords in your site, use them in your domain name, page titles, and headlines. You might have heard about keywords and meta tags. Meta tags are code in your site that is there just for search engines. While it's not as important as they used to be, it still helps.
Do what search engines suggest. Search providers are open about their requirements if not their exact methods. Many will promote their paid services but there are plenty of free steps you should take to make your site findable. If your starting from scratch, submit your site to Yahoo's Directory and the Open Directory Project. XML sitemaps can be used to help search engines navigate more complex websites.
Spread the news Links from related sites are valuable for SEO. Reviews, articles, and press releases about your site help build your credibility and increase paths to your site.
Be patient Don't expect overnight results. If your building a new site it will take time for your site to be indexed by search engines. Stay focused on the long term goals instead of instant gratification.
These basics are a great start to getting good search result for your site, but there are, of course, many more details you can delve into, even as a career. As complex as it gets, it boils down to creating a well built site that has quality content.
More info: